The metal recycling industry provides tremendous societal benefit by preserving natural resources and reducing greenhouse gases. Metal recycling entails pulverizing and shredding vehicles and appliances into smaller pieces to facilitate melting processes. Large mega shredders are often e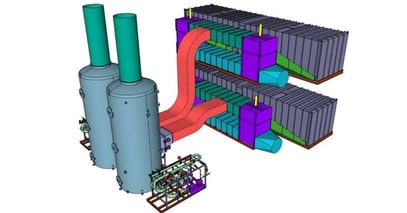 nclosed to capture process emissions. Volatile organic compounds (VOCs) and other hazardous air pollutants (HAPs) are released during shredding, including small amounts of halogenated compounds.

In recent years, some state and regional regulatory agencies have begun requiring Best Available Control Technology (BACT) to treat shredder exhaust gases for VOCs and other HAPs. One facility had a need to treat a large volumetric flow rate from their shredder enclosure. The equipment must meet stringent performance limits, be reliable, and capable of 24/7 operation.
Envitech partnered with Process Combustion Corporation (PCC) to provide a comprehensive BACT solution. The partnership leverages PCC's 50 years of experience engineering thermal systems for air pollution control with Envitech's wet scrubber expertise. PCC provided a regenerative thermal oxidizer (RTO) for VOC control and interconnect ductwork and incorporated an Envitech packed bed acid gas scrubber system. The scrubber scope of supply includes two (2) equal trains consisting of a horizontal Hastelloy C276 quencher, 13 foot diameter fiberglass packed bed absorber, instruments, pre-assembled recirculation pump skid with redundant pumps, and stack.

The horizontal quenchers ensure the gas is fully saturated across all operating conditions and simplifies ductwork between the RTO and scrubber.

CFD modeling minimizes pressure drop and prevents re-entrainment.
The system will be installed and operational in 2021. Guarantees are provided to meet the below design conditions. The combined PCC/Envitech process provides a reliable, comprehensive solution to meet the demands of a more stringent regulatory environment.
Gas flow rate: 140,000 acfm
VOC destruction: > 98%
Acid gas removal (HF and HCl): > 99.5%
Click on the link below to download literature about this application.