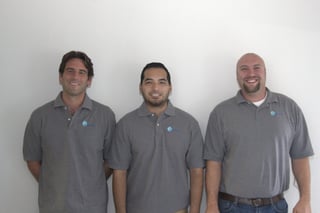 Envitech is proud to launch a new scrubber service and maintenance program for all users of air pollution control equipment. Envitech offers the program to provide plant managers, environmental departments, plant engineering and operations and maintenance staffs access to our trained, experienced group of engineers and technicians. Our goal is to improve your uptime, reduce your operating costs, ensure you meet compliance and offer you an on-demand technical resource for troubleshooting your equipment. Additionally, we want to help you organize your maintenance programs and provide training to keep your operators up to date.
Over the past year we have strengthened our service department with technicians, tools, and training. In so doing, we have provided new and varied service to our existing customers. For example we have:
Tuned a medical waste incinerator remotely to minimize CO emissions and to reduce fuel usage
Calibrated pH and conductivity probes prior to a successful stack test
Rescaled a replacement transmitter after the existing model was discontinued
Added HMI screens to permit trending of critical instruments
Upgraded VFD, PLC and HMI software to improve security of Ethernet controlled equipment
Precoated new cartridge filters and used Visolite to detect for filter breaches
As part of the program we offer the following services:
Regular visits for onsite training and inspection
Control loop tuning, logic modification and HMI screen changes
Remote servicing using Apple's FaceTime and Citrix GoToAssist
Secure website with access to all your site specific services
Our service program is built for the following equipment:
Quenchers
Packed Bed Absorbers (Scrubbers)
Condensers
Venturi Scrubbers
Collision Scrubbers
Entrainment Separators
Wet Electrostatic Precipitators
Fans
Cartridge Filters
Carbon Beds
Additionally, we maintain key relationships with other pollution control suppliers to help you service equipment such as:
Regenerative Thermal Oxidizers (RTO)
Medical Waste Incinerators
Hazardous Waste Incinerators
Afterburners
Thermal Oxidizers
Baghouses
Dryers
Cooling Towers
Oxidations Systems
Wastewater Treatment
If you are interested call or email Envitech today.