I gave recent presentations at the International Thermal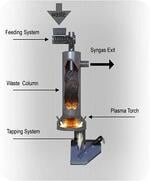 Treatment (IT3) Conference in San Francisco, CA and the AWMA Conference in Calgary, Canada. The paper is co-authored with Liran Dor, CTO of EER - Environmental Energy Resources Ltd. The paper discusses an environmentally friendly way of converting medical waste to energy using EER's Plasma Gasification Melting (PGM) and Envitech's wet scrubbing technology.
ABSTRACT
A plasma gasification melting (PGM) technology has been developed to transform waste into synthesis gas and products suitable for construction materials. The core of the technology was developed at the Kurchatov Institute in Russia and has been used for more than a decade for the treatment of low- and intermediate-level radioactive waste in Russia. It is applicable to municipal solid waste (MSW), municipal effluent sludge, industrial waste and medical waste.
Plans are currently underway to build a plant in the US to recycle medical waste using the PGM technology into a high calorific Syngas and a benign residue. Both output materials may be considered secondary materials since they have commercial use in other processes. Current plans include the production of steam which will be sold as a commodity to nearby industrial users.


The Syngas is fed into a Heat Recovery Steam Generator (HRSG) to produce superheated steam for use as heat or electricity generation using a steam generator. The Syngas leaving the HRSG will enter an Air Pollution control (APC) system for post process gas cleaning. The APC system will use a wet scrubber system that has successfully achieved low emission standards on other typical combustion processes. This paper will discuss how these technologies are combined to create an economically viable and environmentally friendly solution for converting medical waste into energy.
Please click on the below icon to download the AWMA and IT3 conference white paper.