A secondary lead smelter in Southern California recovers lead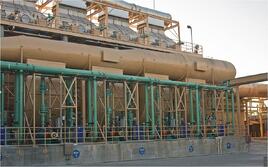 from used automobile batteries. The process uses a combination of combustion processes including kilns and furnaces. Despite extensive control equipment including bag-houses, HEPA filters, and wet scrubbers, low concentrations of heavy metals were being emitted from various stack sources. Cancer risk index standards were being exceeded due to the close proximity of residents to the plant. To be compliant with state regulations a solution was needed to reduce these emissions. The special circumstances of nearby residents and a stringent cancer risk index required the facility to meet emission limits well below any other secondary lead smelter in the country.
A case study is now available to describe how an Envitech high performance Wet Electrostatic Precipitator was used to solve this problem.
Please click on the icon below to download the case study.