A 582-megawatt (MW) electric generating plant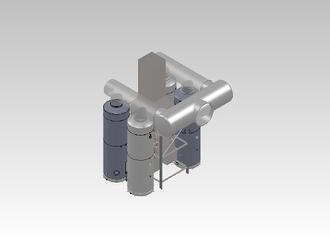 in Kemper County Mississippi is being built. The process uses locally mined lignite coal for fuel which contains 40% moisture. The coal must be dried before it is converted to syngas in the gasifier.
Six (6) fluidized bed dryers dry the coal with a combined exhaust gas flow rate of 2.1 MM cfm. A cost effective means was needed to remove particulate and moisture from the exhaust gas before it is recycled back to the dryers.
A case study is now available to describe how an Envitech Venturi scrubber-condenser solves this problem.
Please click on the icon below to download the case study.
Follow the link to a previous blog post to download a presentation on this project from the 2012 Coal-Gen Conference.