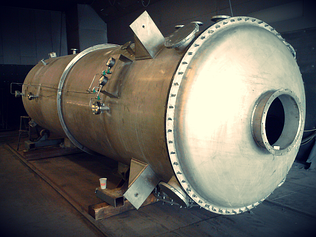 Emissions from marine vessels contribute to global smog forming pollutants. In response, the International Maritime Organization (IMO) has adopted new regulations in MARPOL Annex VI for progressive reduction of NOx, SOx, and Particulate. The new regulations require ships to achieve a SOx reduction equivalent to 0.1% sulfur fuel by 2015. This requirement can be met by using more expensive, low sulfur fuel, or by using a marine diesel scrubber. The scrubbers must achieve greater than 97% SOx removal with 3.5% sulfur fuel. A cost effective scrubber is needed to help ship operators comply with these rules and avoid high cost ultra-low sulfur fuel.
The Envitech HYSEA DeSOx scrubber combines 30 years of experience achieving low emissions on stationary sources with patent pending technology. Scrubber features include:
Innovative inlet design allowing a vertical bottom direct connect to minimize space.
Proprietary quencher to cool the gas to saturation and remove particulate.
Flow works modeling to ensure uniform gas distribution for maximum performance.
Flexibility for open loop operation to minimize operating cost and closed loop operation for navigation in inland water ways and SECA zones.
High performance, foul-resistant mass transfer media to minimize pressure drop and parasitic load.
Skid mounted pump skid with integrated control panel.
Please click on the icon below to download a case study on the Envitech HYSEA DeSOx scrubber.