Mississippi Power Company recently released a Youtube video providing an update on the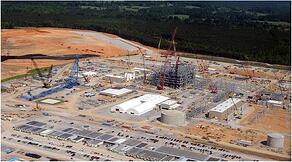 Kemper County Coal Gasificaton Integrated Combined Cycle (IGCC) Project. The project is a 582-megawatt power plant currently under construction. The facility will convert locally mined lignite coal into energy using a state of the art coal gasification process call Transport Integrated Gasification, or TRIGTM. The process enables a 65% CO2 reduction making green house gas emissions equivalent to similar size natural gas combined cycle power plant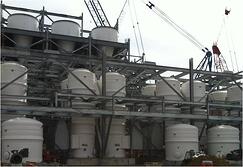 The lignite coal is very wet and needs to be dried before it is gasified. An Envitech wet scrubber-condenser system is used in the material handling/drying train. The system is comprised of a Venturi scrubber and packed bed condenser. The wet scrubber equipment treats 2.1 MM cfm of dryer exhaust and can be seen in the lower left corner of the screen 28 seconds into the video.
Part of the CO2 reduction comes from CO2 capture using 200 ft solvent absorbers. The CO2 will be piped to another location in MS and used for enhanced oil recovery. This will allow an increase in oil production of approximately 2M barrels per year. Some milestones/features of the plant include:
Installation is 70% complete
Start-up planned during the summer of 2013
The plant will be a zero liquid discharge facility
Approximately 2,500 workers are currently on site
Over 12,000 construction jobs will be created during the course of onstruction
About 1,000 permanent positions will be created once the facility is open.
Click on the icon below to download a free presentation from the 2012 Coal-Gen conference on the coal dryer wet scrubber system.