This is a follow-up to my blog post last week on SOx scrubbers and the AQMD RECLAIM program. I was a panel member during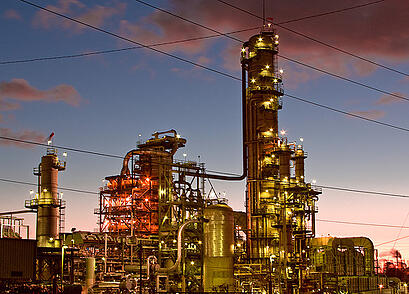 one of the conference sessions for the SOx Control Technologies & Emissions Monitoring for Stationary Sources hosted by AQMD and the Air & Waste management Association (A&WMA). The conference was held on March 17th at the South Coast AQMD facility in Diamond Bar, CA. There were about 90 attendees at the conference and my understanding is that all but one of the 11 major facilities impacted by the AQMD RECLAIM program had someone in attendance.
There were interesting presentations given in the morning sessions focused primarily on refinery applications. These included presentations by both INTERCAT and GRACE on additives that can be used in Fluid Catalytic Cracking Units (FCCU's) to reduce SOx emissions without add-on controls. This type of approach will likely be used by most of the local refineries to meet shorter term requirements. However, the speakers noted limitations for achieving lower outlet emissions in the 5 ppmv range. These can include higher chemical consumption and impacts on opacity. This suggests there may still be a need for back end controls to meet longer term requirements to achieve limits below 5 ppmv.
PRAXAIR gave an informative presentation introducing their Refinery Gas Processor (RGP) technology. This technology is targeted at treating non-H2S sulfur compounds (Mercaptans, COS/Sulfides, Disulfides, Thiophenes) for use in conjunction with existing amine H2S removal systems. The RGP technology can enable a 90% reduction of non-H2S sulfur from refinery fuel gas.
Another issue discussed during the conference was the ability accurately measure and report outlet emissions as low as 5 ppmv. This will present a challenge for many facilities because most existing monitoring equipment are designed for measuring outlet emissions at higher concentrations. However, several panel members from the afternoon session on emissions measurements provided useful information on how to address these challenges. These include presentations from:
I gave a talk during the afternoon session on control technologies. This session was dedicated to wet scrubber technology for achieving ultra-low SOx emissions. Ultra-low is loosely understood to be less than 5 ppmv. This is generally a longer term target for the AQMD RECLAIM program. Most the technologies focused on wet gas scrubbers for refinery FCCU units. I presented an innovative SOx scrubber design to remove SO2 from a thermal oxidizer exhaust at an industrial facility located in Southern California. The exhaust contains more than 1,000 ppm of SO2 and the facility is required to achieve less than 5 ppmv with greater than 99% removal efficiency. There are several advantages of the scrubber design for applications requiring ultra-low SO2 emissions. The scrubber design may be a viable option for some of the facilities impacted by the AQMD RECLAIM program including FCCU units and glass manufacturers. I'll provide a future blog post that gives more information about the ultra-low SO2 scrubber design.
If you would like to download the white paper on an ultra-low SO2 scrubber design, click the link below.