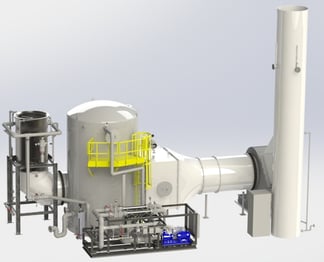 PROBLEM:
A Midwestern ceramic tile manufacturer needed an acid gas scrubber to treat the off gas from 3 kilns being installed at a new manufacturing plant. Each kiln was equal in size and emits HF, HCl, and SO2. The scrubber needed to remove > 98.5% of acid gases. The scope of supply included an ID Fan, interconnect duct, stack, control system, and pump skid. The facility was faced with the additional challenge of less than 22 ft of overhead space inside the building. A tight schedule required receipt of equipment in 16 weeks, including engineering. The customer operated other scrubbers at different facilities and reported difficulty in controlling the spray quenchers to cool and saturate the gas.
SOLUTION:
The customer selected an Envitech quencher/packed bed scrubber to meet their requirements. To eliminate difficulty in controlling gas cooling the scrubber used a proprietary, low pressure drop Venturi quencher. This provided a means to saturate the gas over a wide range of operating conditions and flow rates. The scrubber used a proprietary internal duct design with an outlet and entrainment separator at the bottom of the scrubber. This allowed the scrubber to fit in the low overhead space with no roof penetrations to minimize installation cost and time. Other equipment features included:
Quencher design to capture > 90% of particulate > 3 microns.
Skid mounted dual pumps (1 opr/1 spare) with pre-piped and valved instruments.
Hydro-testing of piping assemblies.
Instruments pre-wired to a junction box.
Control System Factory Acceptance Test (FAT).
High efficiency, low pressure drop packing with high void spaces to prevent material accumulation and fouling.
RESULTS:
The customer placed the order in June, 2015. The equipment shipped on time in October 2015 and arrived on site one week early, 15 weeks from order placement. The system will be operational in early 2016. Stack testing will confirm compliance with the performance guarantee summarized in the table below.
| | |
| --- | --- |
| DESIGN | VALUE |
| Flow Rate, acfm | 70,000 |
| Inlet Temp, oF | 482 |
| HF Removal | > 98.5% |
| HCl Removal | > 97% |
| SO2 Removal | > 53% |
To download a Free Case Study, please click on the icon below.