For years, many states have exempted industrial facilities from rules prohibiting the release of toxic pollution during startup, shutdown, and malfunctions. That could all soon change. On May 22, 2015, the U.S. Environmental Protection Agency (EPA) finalized a rule which will force state regulators to limit industrial upset emissions. The EPA issued a state implementation plan (SIP) call action to 36 states directing them to correct specific startup, shutdown, and malfunction provisions in their SIPs to ensure they are fully consistent with the Clean Air Act (CAA). The ruling will affect a wide range of facilities including refineries, chemical manufacturers, and natural gas producers. This will create challenges for state regulators and industrial facilities and opportunities for technology providers and environmental consulting and engineering firms.
A common industrial application which may be impacted by the new rule is found in refineries for sulfur recovery units (SRU). Most SRU's are based on a multi-step Claus process which recovers sulfur from gaseous hydrogen sulfide. The hydrogen sulfide is found in by-product gases from refining crude oil and other industrial processes. A Tail Gas Treatment Unit (TGTU) follows the SRU to recover sulfur and return it to the SRU. A TGTU can yield 99.9% sulfur recovery for a typical oil refining plant. An in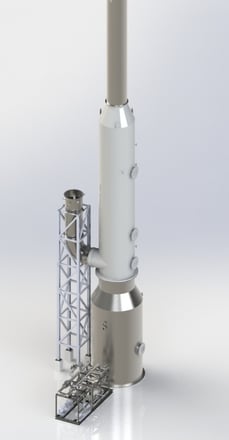 cinerator and waste heat boiler treats the TGTU off-gas before it is exhausted to atmosphere. During normal operations, there is very little SO2 emissions due to the high sulfur recovery. However, TGTU upsets can occur several times per year which sends unrecovered sulfur to the incinerator. During these upsets, SO2 emissions can be as high as 1 tph or more for a period of 8 to 12 hours.Envtech is designing a refinery standby SRU tail gas caustic scrubber which will eliminate SO2 emissions during upset conditions. The scrubber uses Envitech's proprietary quencher which acts as a low pressure drop Venturi. The quencher is followed by a packed bed absorber for SO2 removal. The overall pressure drop is less than 10 inches and has lower power consumption than other types of SRU scrubbers installed in refineries. Special design considerations enable the exhaust gas to pass through the scrubber at both elevated and cool temperatures. During normal operation, hot gas from the TGTU passes through the scrubber in standby mode with the re-circulation pumps turned off. In this mode, the gas is at elevated temperatures of 500oF to 600oF. During a trip event, the TGTU is bypassed and the recirculation pumps turn on automatically. The gases are then cooled to saturation and SO2 is absorbed and removed in the packed bed. Implementation will enable the facility to reduce SO2 emission by 40 to 80 tpy and to meet the new EPA compliance standards for start-up, shutdown, & malfunction. The scrubber is a good example of how an innovative solution can help a facility meet the new emission requirements during upset conditions with significant benefit to the environment.
To read more about the use of Envitech's scrubbers in difficult refinery applications, please download the white paper below on the topic of meeting ultra-low SO2 emissions.