A pharmaceutical company, Roche Carolina, operates a thermal oxidizer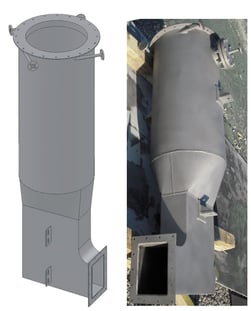 (TO) that treats a rich stream of chlorinated compounds and an organic silicon compound. HCl and silicon dioxide (SiO2) particulate are formed during combustion. The exhaust is treated by a Hastelloy evaporative quencher followed by a caustic scrubber.

The quencher utilizes spray pig tailed nozzles, some of which are orientated upward into the gas to prevent fouling from SiO2 accumulation on the spray headers. The pigtails gradually plug both inside and outside as SiO2 particulate collect outside the nozzles.

The stainless inlet duct flange connection frequently springs leaks, causing shutdowns for repairs. It was thought that the upward pointed nozzles wetted the welded flange surfaces resulting in acid gas corrosion from HCl and possible stress from thermal expansion differences between the two metals.

An improved design was sought to increase reliability and eliminate operational and maintenance problems. The design needed to address the potential for:
Spray nozzle plugging from SiO2 particulate.
SiO2 accumulation on the quencher walls.
Acid gas corrosion.
Weld leakage and failure.
The customer selected a custom engineered Envitech quencher.


Tangential pipes with large orifices at the top of the quencher keeps the walls fully wetted and prevents SiO2 particulate build-up.

A barrel at the inlet flange extends into the quencher with the same diameter as the inlet duct. The tangential nozzles are placed behind the barrel wall to protect injected water from traveling up into the duct.

Elimination of the pigtail nozzles prevents associated gradual nozzle plugging.

Because water is not put into the quencher-inlet duct interface, the possibility of leaking from this connection is eliminated. Risk of corrosion attack is also minimized.
Weld leakage and failure.

The bottom section is the same as the original design to facilitate integration.

The quencher has been operational since 2008 to the below design conditions. The facility reports good results and significantly improved reliability and lower maintenance costs.
Max flow rate, acfm: 6,700 acfm
Nominal flow rate: acfm 3,000 acfm
Max inlet temperature, oF: 850
SiO2 particulate, gr/dscf: up to 0.1
HCl, ppmv: 31
Saturation temperature, oF: 145
Click on the link below to download a case study and related quencher and wet scrubber literature.