Venturi Scrubbers are used to control particulate on a wide range of applications including medical and hazardous waste incineration, pot ash mining, sewage sludge processing and incineration, coal drying, textile and mineral wool insulation manufacturing and copper roasting. A previous blog post in April discusses the mechanisms for particulate removal by a Venturi scrubber. One application for Venturi scrubbers is removal of fumes generated by a Banbury mixer. A Banbury mixer is an industrial mixer used in a wide range of applications including food, chemical, pharmaceutical, plastic, mineral, and rubber processing.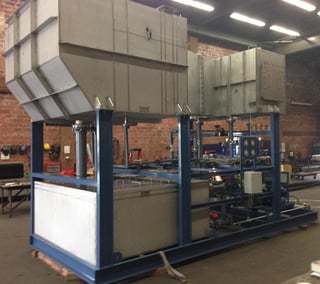 Banbury mixers are used, for instance, to compound rubber material for manufacturing automobile tires. Uncontrolled fumes from the mixers can create a nuisance by settling around the facility. Envitech's Venturi collision scrubber has been used to control these fumes. The figure on the right shows a typical Venturi collision scrubber for a 25,000 cfm mixer exhaust. The scrubber separates the exhaust into two streams internal to the scrubber. The streams are then directed to two opposing Venturi throats. Recirculated water injected into each throat is atomized into fine droplets as the gas is accelerated. Fume particles and droplets collide and are captured by the atomized water as the steams are recombined into a third Venturi throat. A diffusion section redistributes the gas to a horizontal chevron style mist eliminator to remove entrained water droplets. Water is collected and drained into a common sump and recirculated back to the Venturi throats. A blowdown stream purges the collected material.
The scrubber is designed for 24/7, semi-automatic operation and is skid mounted with redundant pumps, one operating and one spare. Instruments are pre-mounted into the piping assembly and pre-wired to a junction box. The systems are often provided with an ID fan which can be mounted on the roof of the building. Typical design conditions and performance are indicated in the table below.
| | |
| --- | --- |
| DESIGN | VALUE |
| Flow Rate, acfm | Up to 25,000 cfm |
| Temp, oF | 90 |
| Particulate, gr/dscf | 0.015 |
| Particle Removal | > 99.5%* |
*particles > 2.5 microns
Envitech Venturi collision scrubbers have been in operation at several tire manufacturing facilities since the early 80's. Over 17 systems have been installed including several in recent years.
Click on the icon below to download a case study for Envitech Venturi Collision scrubbers learn how the scrubber solved the emission problems for Goodyear Tire & Rubber Company.