In previous blog posts I discussed an ultra-low SO2 (sulfur dioxide) scrubber using a 2-stage packed bed scrubber design. The system treats the off-gas from a thermal oxidizer that oxidizes the waste gas streams from various sources at a waste oil re-refining facility in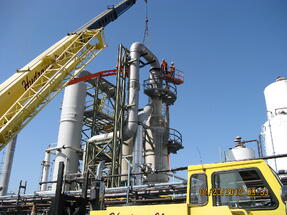 Southern, California. The low emission limit enables the facility to remain outside of the South Coast Air Quality Management District (SCAQMD) Regional Clean Air Incentives Market RECLAIM program. To meet this objective, the scrubber system has to meet an emission limit of < 2.7 ppm outlet emission with an inlet load of approximately 104 lb/hr. The limit must be met on a continuous basis which is monitored by a CEMs unit provided by Cemtek. Envitech provided the scrubber as a turn-key installation and recently turned the system over to facility operations personnel. The CEMs unit is reporting emissions of < 0.5 ppm, well below the permit limit.
Please click on the icon below to download a paper on the scrubber system.