A previous blog post made a case study available for wet electrostatic precipitator (WESP), SO2 scrubber system that will treat the off-gas of a red liquor recovery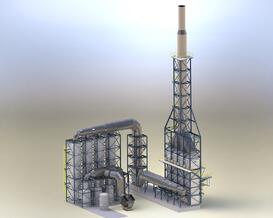 boiler for a sulfite pulp mill in Quebec, Canada. The scrubber system is part of a larger green energy project that will produce 40-megawatts of power and increase annual production capacity of specialty cellulose by 5,000 metric tonnes. The new production capacity is slated to be complete by September 2014.
The system is comprised of a sulfur recovery island that cools the boiler exhaust gases and recovers sulfur using ammonia as a scrubbing reagent.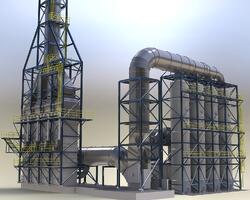 The sulfur containing effluent is re-used in the cellulose producton process. The sulfur recovery island is followed by a gas cleaning island comprised of an packed bed SO2 scrubber integrated with an Envitech wet electrostatic precipitator (WESP). The gas cleaning island removes SO2 and particulate before exhausting to the atmosphere.
Envitech has completed the system design and released major equipment orders. Some major components will be complete as early as this month. Delivery will take place before the end of 2013. The adjacent and above images show a recent rendering of the system.
UPDATE: See the case study for this system by clicking on the link.