By Mike Simon
Director of Simulation Products, Digital Dimensions
Understanding how simple design changes affect the airflow inside of Envitech's products is critical in designing efficient industrial gas cleaning systems. Engineers who design this equipment need to analyze and understand the behavior of the components if they want to improve performance. Computational Fluid Dynamics (CFD) is a good tool for studying the effects of different design changes on these systems. CFD provides a way to save time and money in obtaining the necessary information, and assists engineers in designing better quality air pollution control systems. The use of CFD makes it possible to minimize the use of physical prototypes and find serious flaws much earlier in the design process.
SolidWorks is the 3D CAD system used by Envitech to design their industrial gas cleaning systems. SolidWorks has a number of complementary features to its mechanical CAD system including CFD capabilities that are fully integrated within the main CAD interface. SolidWorks Flow Simulation is the name of the CFD program inside of SolidWorks that allows engineers to take their 3D CAD models and perform virtual prototyping on their designs without having to fabricate any parts. To perform a simulation, the following steps are needed:
1. Create solid model in the SolidWorks CAD system
2. Specify the working fluid ( air was used in this case)
3. Specify the flow rate at the duct inlet
4. Specify the outlet opening of the duct
5. Specify the pressure drop or resistance properties of the filter material (properties taken from filter manufacturer specifications)
6. Run the simulation inside of the SolidWorks interface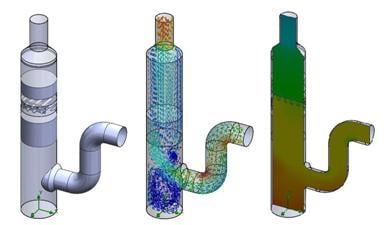 Envitech's products were particularly challenging since Envitech's products utilized very thin fins and packing materials within a large ducting area. Thin fins are used to direct the airflow and also to collect water from entering the system. SolidWorks Flow Simulation was able to capture the geometry of these thin fins and create a corresponding CFD model for the simulations. Packing material is used to help distribute airflow and trap particulates from being released into the environment. The porous media feature inside of SolidWorks Flow Simulation was used to simulate the packing material and create the additional resistance to the airflow. After performing the simulations, the Envitech engineers had the ability see the effectiveness of the scrubber fins in directing the airflow and to understand the pressure drops caused by the packing material. The simulations helped the Envitech engineers validate their designs and gave them additional insight into how to improve future product performance.
For additional information on SolidWorks CAD or SolidWorks Flow Simulation software, go to http://www.ddicad.com/ or contact Mike Simon, Director of Simulation Products, at msimon@ddicad.com.
For a case study on the impact of CFD analysis, click on the link below.