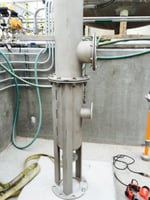 Ethylene amines are one of the major chemical building blocks. Ethylene amines include ethylenediamine (EDA), diethylenetriamine (DETA), triethyltriamine (TETA) as well as other longer chained ethylene amines. Amongst its many uses, ethylene amine is one of the two principal chemical ingredients in making ethylenediaminetetracetic acid (EDTA), the most common chelating agent in the world. Diamines are also used in the manufacture of the ubiquitious textile Nylon. Due to its excellent properties, it is also used extensively in the asphalt, petrochemical, rubber, pesticide, and paper industries.
The storage of this precursor chemical requires extra handling than is typical with other common industrial chemicals. Ethylene amines possess relatively low OSHA exposure limits of 10 ppm or less and have a vapor pressure akin to water; thus vent points in ethylene amine storage systems must be properly engineered to avoid hazardous conditions, and scrubbed to remove excess vapors.
Envitech manufacturers a packaged vent scrubber for the control of toxic compounds like ethylene amines. Envitech's vent scrubber is simple in design, constructed out of stainless steel or other corrosion resistant materials, and available in several sizes and customizations to meet individual storage needs.
The vent scrubber uses water to capture ethylene amine vapors from any process vent. The scrubber is designed for batch or continuous use and can meet OSHA requirements for all classes of storage tanks. The system only requires water, power, and a drain, and installation is easy and straightforward with single point connections for all utilities. If you are interested in more information about Envitech's vent scrubber, click on the link below to download a cut sheet for the scrubber.